Engineering and FCC Competitive Intelligence Overview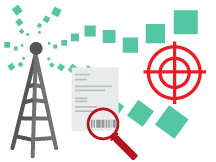 To accurately assess potential market opportunities and track competitive opportunities and threats, BIA/Kelsey delivers a wide range of broadcast engineering and FCC competitive intelligence.
Services include FCC activity tracking, GSA Market studies for EBS/BRS, "what if" analysis for FM allocation, data services for radio and television and detailed engineering studies.
Our engineering and FCC competitive intelligence services are performed using both FCC databases and BIA/Kelsey's proprietary databases. Our database includes all of the technical, operational, ownership and competitive information on local broadcast properties. We have maintained the databases for over 30 years and they are considered the most accurate and dependable sources available for broadcast business intelligence.
Monitoring FCC Activity
BIA/Kelsey's FLAG and AppTracker automate the monitoring of FCC activities and applications for station(s) or geographic areas of interest.
Who uses FLAG and AppTracker?
Broadcasters use these tools to monitor activity affecting their stations and track the competition as they prepare to purchase, sell or upgrade facilities.
Law firms rely on these tools for real-time information of client facilities and applications.
Both FLAG and AppTracker are simple to set up and work continuously to track and report on markets, stations, locations and application filings at the FCC.
Contact Us
Sales
(800) 331-5086
(703) 818-2425
sales@biakelsey.com
Client Services & Login
Engineering and FCC Competitive Intelligence
Transaction Activity
Curious about the transaction value and the number of stations sold monthly and year-to-date?
View Now
FLAG – FCC Public Notice Monitoring
When tracking FCC activity, it's extremely time-consuming to manually search the FCC Public Notices to find information as it pertains to stations or geographical areas of interest.
FLAG automates the work required to monitor a station or geographic area at the FCC and track competition. Acting like an alert system, FLAG searches FCC Public Notice items and generates a report detailing all recent activities that impact your monitored station using distance and FCC spacing criteria.
Reports are delivered by email and available on-demand or automatically at the end of each week.
Use the information you receive from FLAG to:
Meet FCC guidelines and avoid costly mistakes
Improve and protect facility signals
Manage stations effectively
Track competition
Find potential allocation conflicts and evaluating changes
Detect city of license changes or license cancellations

Now with Enhanced Reporting & Design
Completely redesigned, FLAG reports are now delivered in an HTML format that is easy to read and share with colleagues or clients. The revamped station setup function also makes setting up a facility (by FCC ID or call sign) as easy as a couple clicks.
Special Offer for New Subscribers
Try FLAG free for 30 days. To set up a trial subscription, contact Karen Brandt at kbrandt@biakelsey.com or (703) 818-2425.
AppTracker – Application Tracking

Are you (or do you have clients awaiting) news on permits, license assignments, transfers of control and consummated agreements? AppTracker helps you stay on top of all activities affecting a station in real time by monitoring FCC activity on applications as it relates to construction permits, license assignments, transfers of control and consummated agreements. AppTracker eases the work required to monitor changes in FCC application(s) and license status by continuously scanning the FCC for specific applications.

Searches can be done by:
Application number
Application contact email
Call signs
Facility ID
Frequency
Application service
Application status and owner/licensee name
When any activity is discovered, AppTracker sends a report, allowing you to receive timely, accurate and valuable data.
Use AppTracker to automatically track:
Conversions to digital
Allocation conflicts
Competitor activities
FCC activities


Special Offer for New Subscribers
Try AppTracker free for 30 days. To set up a trial subscription, contact Karen Brandt at kbrandt@biakelsey.com or (703) 818-2425.

Join other satisfied stations and law firms using FLAG and AppTracker as valuable resources for tracking FCC activities affecting their stations.
Engineering Services
AM
Night Limit Study
Detailed Individual study that calculates the site-to-site night limits and resulting RSS limitation to a given station or locations from all fulltime stations on the specified frequency + or - 3 channels.
Night Protection Study
Calculates permissible radiation toward other co-channel and first-adjacent-channel stations where pertinent.
Daytime Protection Study
Performs an allowable radiation study for a given site based on ground wave contours.
FM
FM Explorer
A graphical allocation tool that allows you to do "what if" analysis for creative FM allocation.
Spacing Study
Test proposed commercial FM facility using FCC Spacing criteria.
Interference (FM)
Feasibility study using Section 73.509 interference criteria.
TV
Call Sign List (AM/FM/TV)
Considering changing your call sign? The Call Sign List service can help you find a new option quickly and efficiently with a list of unused call signs.
FLAG (AM/FM/TV)
FLAG is a comprehensive service for monitoring a station or any geographical areas of interest. FLAG automates a search of records from the FCC website and ensures that subscribers are up-to-date on all recent FCC activities.
AppTracker (AM/FM/TV)
AppTracker monitors new applications under review at the FCC in real time, helping broadcast media and law firms stay on top of developments on construction permits, license assignments, transfers of control and consummated agreements.
Studies
Site Check Report
Retrieves all AM, FM, TV and TX records within a given radius of user-supplied reference coordinates. Also, records from the FCC/FAA tower database and airport/heliport database are included.
TERP - Terrain Retrieval
Computes 3-16 kilometer (2-10 mile) terrain averages for any point in U.S.
Terpath Study
Retrieve terrain elevation data between any two points in the conterminous U.S.
Contour Study
Calculate facility coverage areas (50/50, 50/10 or 50/90)
POPCOUNT
Calculate total or ethnic population within a specified radius or contour by state, county or MCD/CCD
LMA/Duopoly
Determines market stations based upon contour overlap or transmitter location – study results can be mapped for inclusion in FCC filing
FCC Database Download
Flat-file formatted databases
For more information on any of our broadcast engineering or FCC competitive intelligence services, contact us today at: (703) 818-2425 or e-mail our team at: sales@biakelsey.com.