MEDIA Access Pro™ for Radio

Keep Your Finger on the Competitive Pulse of the Radio Business Market
MEDIA Access Pro™ (MAPro) provides the most comprehensive data service and analytical software application available for tracking the radio industry.
For station owners, service providers, equipment manufacturers, program consultants, law firms and any groups of users, there is no better way to track opportunities, owners, revenues, digital information and assess competitive performance in any market.
For the radio industry, MAPro delivers the following data:
Nearly 15,000+ commercial and non-commercial stations and 5,000+ unique owners profiled
Built-in data fields, quick searches and reports that provide information based on FCC geographic market definitions
More than 800 fields of data for every station covering personnel, technical, format, ratings, market statistics, revenues
Total Line Reporting (TLR) from Arbitron
Detailed construction permit (CP) information - easily search for CP information via FCC application number
Searchable low-power stations and CPs "not on air" - quickly search to learn about number of CPs in a market, identify overlapping signals from competing stations, determine when a CP will be a new move-in to a local market
Detailed and historical station performance data:

Station revenue share for five years
Station power ratio:

Estimated revenues provided on a market-by-market basis, historic and projected
Revenue share and LCS (local commercial share) for each Arbitron-rated station
Revenue estimates updated yearly and include all stations owned and operated under local marketing agreements (LMAs) in the market, as well as pending acquisitions

Contact data for 42,000-plus key station personnel and 7,500 owner execs
Details on more than 29,000 historic sales of stations from one owner to another
Rankings of station ratings in its critical demos and day-parts for every market in which it is rated by Arbitron
Built-in data fields, quick searches and reports that provide information based on the latest FCC geographic market definitions, CPs and "move-ins"
Coverage maps defining contours - 60, 70 and 65 dBu coverage. Display coverage for one station or multiple stations in the same market.
Detailed information for Low Power FMs and their unique programming. Users can single out these stations via a special search criterion.
Information on station programming (i.e., HD2 and HD3)
View multiple markets simultaneously via saved searches, making it easy to view information across markets
Addition of FM translator stations
MAPro is built and maintained with attentiveness to customer requirements. As such, the program provides detailed custom reports and saved searches to make data extraction easy. For reports, users can easily generate information about digital stations, total stations in a market, CP detailed reporting, move-in reports and much more. The saved searches in MAPro make finding a station's digital details, doing market analysis and exporting mailing labels as simple as clicking a button.
Digital Information
MAPro provides comprehensive digital information updated daily:
Detailed view of digital radio information
Arbitron's Portable People Meter™ (PPM)
Digital contour coverage area with population estimates
Multicast programming detail
Total number of digital stations on air (iBiquity data)
Stations licensed or to be licensed to air HD Radio programming
With MAPro's digital information, users are fully aware of changes in their market. For example, MAPro makes it easy to find HD Radio programming opportunities with quick searches to reveal HD stations in the local vicinity.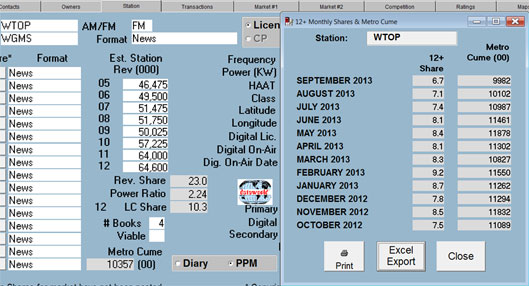 MAPro also includes ratings information by Arbitron of the total audience for simulcast stations.

For customization, take advantage of the multimedia functionality of MEDIA Access Pro, which includes all three industry databases. Database packages are also offered for single or two-industry functionality as well.
Call (703) 818-2425 or e-mail sales@biakelsey.com today to schedule your free online demonstration of this dynamic software database.
Client Login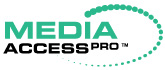 Support | (607) 936-6737 | mahelp@bia.com
"The data integrity of MEDIA Access Pro is top-notch and the customer service is beyond compare."
Industry Segments
Transaction Activity
Curious about the transaction value and the number of stations sold monthly and year-to-date?
View Now