MEDIA Access Pro™ for Television

Track the Fast-Paced Business Activities in the Television Industry
MEDIA Access Pro™ (MAPro) provides the most comprehensive data service and analytical software application available for tracking the television industry.
For station owners, service providers, equipment manufacturers, program consultants and any groups of users, MAPro delivers comprehensive information on owners, stations, revenues and digital information. It is the media industry's leading tool for assessing competitive performance in any market.
For the television industry, MAPro delivers the following data:
Over 7,000 commercial and non-commercial stations, including full- and low-power, Class A, cable, satellite and translator stations. Over 1,200 unique owners profiled.
More than 1,100 fields of data for every station covering personnel, technical facilities, network affiliation, market statistics, estimated station and market advertising revenues including:

Estimated group revenue shares provided on a market-by-market basis
Historical and projected revenue shares for 10 years (2007-2017):

Percentage revenue change
Revenues per population
Revenues per household
Revenues per retail sales
Revenues per EBI

Population Demographics

Age-based population breakouts for both men and women
Population counts for each county in the market

Access to station digital facility information (see below for more details)
Sophisticated mapping program that produces detailed digital (or historic analog) coverage maps
A table of all competing stations where BIA/Kelsey has reported estimated revenues within a market. For each station, the following information is provided:

Calls, channel and affiliation
Estimated revenues and future projections
Estimated revenue share and future projections
Owner detail
Acquisition detail

Detailed station performance data

Estimated station market revenue share - current and 10-year projected
Estimated station power ration - current and 10-year projected
Affiliate date changes

Contact data for more than 11,000 key station personnel and 1,800-plus owner execs
Details on more than 4,800 historic sales of stations from one owner to another
Coverage maps showing DTV, analog (primary and secondary) and construction permit (CP) contours for television markets; display coverage for one station or multiple stations in the same market
Coverage area population available for DTV, analog (primary and secondary) as well as CP
15 detailed "CP-only" digital and analog data fields, which now contain FCC application numbers
15 detailed "Licensed-only" digital and analog data fields; group revenue market shares, age-based population breakouts, secondary and DTV population counts and coverage

Toggle button for easy viewing of license vs. CP changes
MAPro is built and maintained with attentiveness to customer requirements. As such, the program provides detailed custom reports and saved searches to make data extraction easy. For reports, users can easily generate information about digital stations, total stations in a market, CP detailed reporting, move-in reports and much more. The saved searches in MAPro make finding a station's digital details, doing market analysis and exporting mailing labels as simple as clicking a button.
Digital Information
MAPro provides comprehensive digital information updated daily:
Digital station information (historical analog information)
Analog coverage area with population estimates
Digital contour coverage area with population estimates
Affiliation and DTV channel TV
DTV on-air date
When users are browsing a digital-only station, MAPro lists the digital information right at the top of the "Contacts and Station" tab (example shown below). For historical analysis purposes, MAPro has retained all analog station coverage contours. For stations that still operate an analog facility (e.g., some Class A and LPTV stations), both the analog and digital station information will be displayed. The sophisticated mapping program within MAPro displays a station's digital and historical analog contours together or separately. Users can turn certain categories (i.e., digital, CP, license, analog) on and off to accommodate custom searches.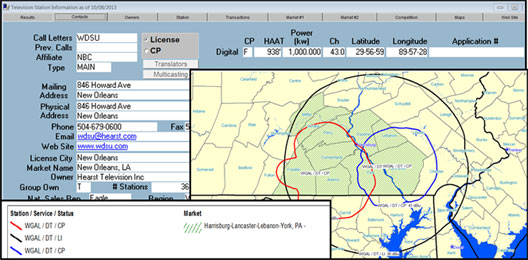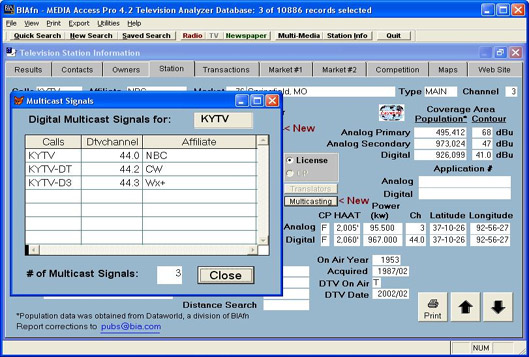 For customization, take advantage of the multimedia functionality of MEDIA Access Pro, which includes all three industry databases.
Call (703) 818-2425 or e-mail sales@biakelsey.com today to schedule your free online demonstration of this dynamic software database.
Client Login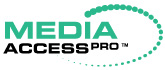 Support | (607) 936-6737 | mahelp@bia.com
"The data integrity of MEDIA Access Pro is top-notch and the customer service is beyond compare."
Industry Segments
Transaction Activity
Curious about the transaction value and the number of stations sold monthly and year-to-date?
View Now