Communications, Media and Technology Investment Banking at BIA Capital Strategies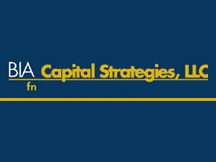 A research-oriented investment banking firm that specializes in serving the communications, media and technology industries, BIA Capital Strategies is a trusted partner for our clients and a broad range of capital providers.
BIA Capital advises communications, media and technology-focused companies on a variety of strategies, including: acquisition, divestiture, recapitalization, refinancing, and company formation. Our deal sizes range from $5 million up to $200 million.
Our team of investment banking professionals is committed to responsiveness and integrity. BIA Capital has completed more than $1 billion in transactions. With our extensive advisory, capital raising and transaction experience, the principals of BIA Capital are poised to deliver the highest-quality service for our clients and work to increase the value of their companies.
For BIA Capital the Emphasis is on Quality and Partnership, Not Deal Volume
In order to best serve our clients and investors, we are highly selective about the number of projects in which we become involved. BIA Capital consciously sacrifices deal volume to ensure we place the greatest emphasis on achieving quality results. We view our clients as our partners. Our reputation and success relies on our ability to help clients achieve their goals.
One differentiator that makes us a strong partner is that we work closely with our affiliated mezzanine investment fund, BIA Digital Partners LP, and our research and consulting firm, BIA/Kelsey. Combining these organizations together brings a truly unique and broad range of services to our clients and capital partners.
Our Services
BIA Capital provides a wide array of services tailored for companies seeking investment banking. They include:
Providing Strategic & Financial Advice
Providing strategic and financial advice in matters including acquisitions, internal expansion opportunities, recapitalizations and shareholder liquidity.
Raising Capital
Raising capital which includes senior debt, mezzanine investments and equity in amounts ranging from $5 million to $200 million.
Representing Clients
Buying or Selling Representation that encompasses comparable sales information and a thorough understanding of the strategic and economic motivations of other parties together with a targeted list of the ideal candidates.
Take the Next Step and Contact BIA Capital for More Information
There are many advantages to working with BIA Capital. First and foremost, we are focused on how we can build a strong partnership with our clients and achieve great results. We invite you to take the next step and contact us today for more information. Call (703) 818-8115, or email Chuck Wiebe, Managing Director.
Contact BIA Capital
BIA Capital Strategies, LLC
15120 Enterprise Court
Chantilly, VA 20151
(703) 818-8115
Email: Chuck Wiebe, Managing Director
Website: www.biacapital.com
Meet the BIA Capital Management Team
Advantages of Working with BIA Capital
BIA Capital is known among communications operators, investors, and lenders for its integrity and tenacity and as a sponsor of high quality transactions. The advantages to working with our firm include:
Client-focused solutions
Relationship-driven approach
Senior level attention
Analytical expertise
Knowledge of capital sources
Trust
MORE SERVICES