Local Market Advertising Reports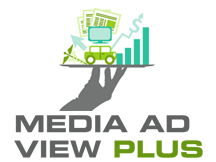 Track Where Ad Dollars Are in Local Markets
Businesses are spending significant ad dollars to reach their target audiences. BIA/Kelsey forecasts local media advertising revenues will exceed $146 billion in 2016 (U.S. Local Media Forecast 2016.) Where is that money going? Media Ad View Plus reveals the answers.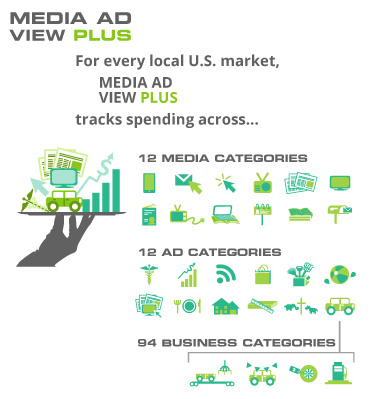 Media Ad View Plus shows where the ad dollars are going in local markets and nationwide across
12 media, 12 ad categories and 94 business verticals
. This forecast, developed using BIA/Kelsey's rigorous and highly respected forecasting methodology, delivers reliable data companies need to make successful sales and budgeting decisions.
Media Ad View Plus delivers:
Detailed pictures of the spending in local markets around vital business categories like automotive, retail, health care and real estate (see all categories)
Analysis of digital spending distribution to examine what dollars are being spent online and where.
Methodology
BIA/Kelsey has a 30-plus year history of being a trusted resource to the media industry. Using a rigorous methodology, our highly respected forecasting delivers the most reliable and comprehensive Ad data estimates media businesses can use to successfully drive their budgeting process, sales initiatives and product development planning. Read more about our methodology.
Media Ad View Plus is a critical tool to help drive your local business success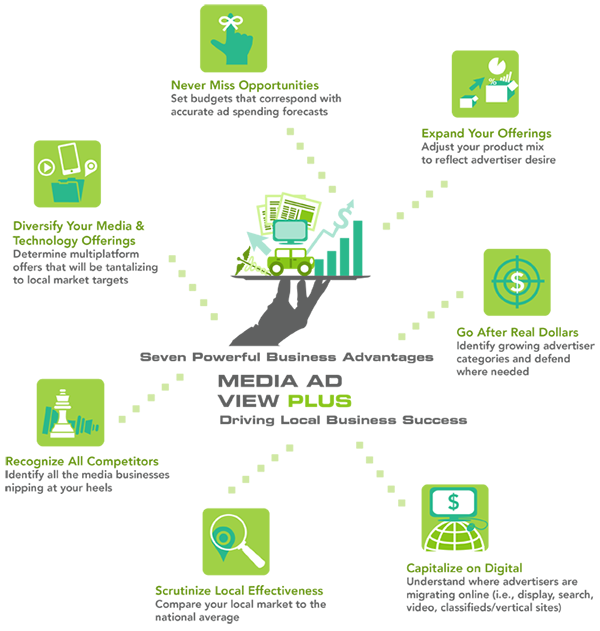 Used by some of the largest media companies to track local market data and gather competitive intelligence, Media Ad View Plus is helping companies drive real local business success. Click now to learn more: Forecast Features, Seven Advantages, Methodology, and Sample Report.
Client Testimonials
"I have utilized BIA/Kelsey's Media Ad View Plus product in a number of different markets to understand and establish benchmarking goals. Too many times, media and sports properties narrowly focus on the market revenue affiliated with their particular sector rather than on the total available media dollars. This is further evolving in the digital space to understand the total audio, total video, and total text media dollars that are available in a local market. Media Ad View Plus has provided myself and my partners with guidance as to the size of the market and the size of individual Categories to determine opportunity."
"The information BIA/Kelsey supplies us through Media Ad View continues to be vital to our budgeting and planning. We now have a more complete picture of advertising spending in our markets on all available media. The information helps us identify trends and, most importantly, revenue opportunities that may have been difficult to track prior to having all this information in one place."
"We have used BIA/Kelsey's Media Ad View data for several years now to identify new opportunities to generate advertising revenue. The level of detail around all the business categories covered in the report allows us to drill down and identify ad prospects and their media channels of choice so we can train and position our sales teams effectively. I believe this research has helped me find revenue I might have otherwise missed."
Call us today at (800) 331-5086 or e-mail sales@biakelsey.com.
Forecast Details
Contact Us
To purchase a report: sales@biakelsey.com
Need multiple market reports? Ask us about bundled pricing.
Forecasts
BIA/Kelsey defines the local media advertising marketplace as those media that provide local audiences to all types of advertisers. Our forecasts draw from proprietary data; company, industry and country information in the public domain; and discussions with clients and non-clients about the direction and pace of development in the local media marketplace.