Insight Papers
BIA/Kelsey Insight Papers cover the true groundbreaking topics in local.
Whether the subject is sales transformation, call-based advertising, mobile payments or the future of loyalty programs, BIA/Kelsey analysts dig deep to provide a breadth of understanding and insight in our Insight Papers.
While our Insight Papers papers do cover subjects in depth, the writing style and format is designed to facilitate all reading styles, from cover-to-cover reads to those who skim for the key takeaways.
Mobile/Local/Social Trends, State of Search, Local Commerce
Mobile Local Discovery: The Next Era of Search
A historic transition of user activity from desktop to mobile is underway. As a result, Google, the company that defined search on the desktop, is faced with a major challenge to its dominance – a challenge that the search giant may be poised to turn into an enormous opportunity.


Click for details
Programmatic Advertising, Local Advertising
Defining the Local Stake in Programmatic Advertising
Programmatic ad exchanges — highly scaleable methods for automating ad campaigns in order to determine the right ad to serve to the right consumer at the right price — have become the talk of the digital advertising world. But how do they relate to local?


Click for details
SMBs, Leads, Promotions, Transaction Marketing, Loyalty
Local Scheduling Platforms: An Anchor for Commerce
Scheduling software programs for SMBs have had their ups and downs since they were initially introduced in 2008-2009. The emergence of cloud platforms and the use of scheduling as an anchor for loyalty and leads programs suggest the opportunity is ripening.


Click for details
Mobile/Local/Social Trends, Marketing Tactics
Social Sharing Goes Local
Among technology sectors transforming media, social sharing tops the list. This refers to mobile users sharing pictures via Instagram, video via Snapchat or location status via Facebook. It's especially prevalent among increasingly buying-empowered millennials.


Click for details
Sharing Economy, Collaborative Consumption, Local Commerce Model
Local On-Demand Economy: The Uberfication of Local Services
One offshoot of the mobile revolution has been on-demand services. First put on the map by ride hailing service Uber, these are defined as mobile apps that allow consumers to summon products or services in an on-demand fashion, which are fulfilled or delivered offline in their local market.


Click for details
Digital Sales Organizations
Old House vs. New House: Building Optimal Digital Sales Teams
Traditional media companies struggle with how to build optimal digital sales organizations. The conversation often comes down to a binary choice: should a media organization rely on a digital-only sales force or a multimedia one?


Click for details
Card-Linked Offers
Status and Review of Card-Linked Offers, 2015
Card-linked offers (CLOs) are marketing offers that are intelligently targeted to consumers based on credit card/debit card or loyalty card transactions. Often linked to electronic wallets or e-payments, they represent an alternative to advertising, and are potentially revolutionary.


Click for details
Mobile and National-Local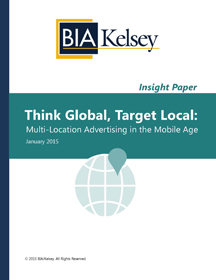 Think Global, Target Local: Multi-Location Advertising in the Mobile Age
The explosion of smart phones and their advanced capabilities such as location awareness and connectivity will help propel location-targeted mobile advertising revenues to $6.6 billion in the U.S. this year, according to our U.S. Local Media Forecast 2015.


Click for details
Content Marketing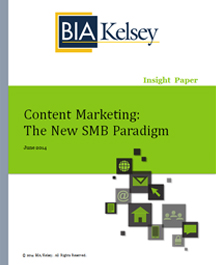 Content Marketing: The New SMB Paradigm
The traditional marketing funnel consisting of awareness, opinion, consideration, preference and purchase is shifting to a more complex and dynamic process that incorporates user-generated content (ratings and reviews), word of mouth and recommendations, along with new marketing access points like mobile and social media. This shift has forced SMB advertisers to engage in multiple formats and styles.


Click for details
Mobile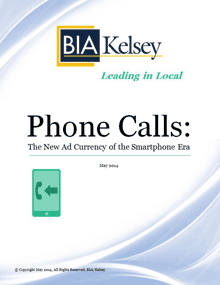 Phone Calls: The New Currency of the Smartphone Era
By 2018, BIA/Kelsey estimates that mobile search will generate 73 billion calls to businesses in 2018, up from 30 billion in 2013. This trend indicates a major shift is underway in the tech and media worlds: the tighter embrace of phone calls as a lead form for paying advertisers.


Click for details
Mobile Local Shopping and Payments: A Virtuous Cycle
Explores the world of mobile commerce and consumer buying habits. This includes a 360-degree view of consumer mobile purchasing behavior, mobile social networking and check-ins, showrooming, payment technologies, and how all these things are coming together. The report is designed to provide strategic and tactical insights necessary to be effective in mobile local commerce.


Click for details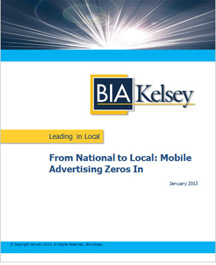 From National to Local: Mobile Advertising Zeros In
Offers a comprehensive examination of the state of mobile local advertising. Emphasizing the 'localization' opportunity for national mobile ad campaigns, the report offers a detailed review of the state of mobile local advertising by exploring the advantages, performance indicators and challenges in the area of location-based mobile advertising.


Click for details
Loyalty & Transactions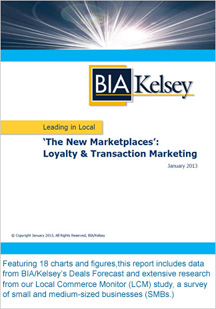 'The New Marketplaces': Loyalty & Transaction Marketing
Offers an in-depth look at the loyalty and transaction marketing space. It provides an overview of the key topics in this dynamic new space, along with our view on where things are headed. For any business engaged in "local", this report offers valuable insights on the investments, revenue streams, competition and merchant adoption around loyalty and transaction marketing.


Click for details
Sales Transformation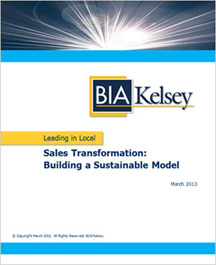 'Sales Transformation: Building a Sustainable Model'
Analyzes the rapid changes that have taken place in the digital media sales environment and offers insights into six respected media companies whose sales operations have undergone some degree of change. Their experiences offer best practice examples for similar local media companies looking to advance their own sales organizations.


Click for details
Analyst Briefings
Speaking Engagements
BIA/Kelsey analysts speak at industry events throughout the year. See where we'll be next.
Local Media Watch
Subscribe to Local Media Watch Newsletter

See all blog posts
Webinar

SMB Adoption of Mobile, Social, E-Commerce, Loyalty Programs and Promotions

Findings from BIA/Kelsey's Local Commerce Monitor
View Video
|
PDF of Slides
|
All Webinars