Sponsored Research

BIA/Kelsey Sponsored Research is commissioned by companies that wish to spotlight areas of coverage.
BIA/Kelsey maintains full editorial control and applies its longstanding standards of editorial practice and objective market analysis.
Would you like to commission BIA/Kelsey to cover a particular topic or profile sectors of local media innovation? Please contact us for more information.
Social Advertising
Social Advertising: How SMBs are Fueling the Growth in Online Advertising
Social advertising is vital to SMB marketing success today. BIA/Kelsey's Local Commerce Monitor (LCM) survey of small business marketing behavior reveals that SMBs rank social media number one in total spend and effectiveness for the past two years.

Now, the next step is to go beyond the basics of social advertising and deliver cost-effective, direct response campaigns that drive leads and deliver high-value measurable return-on-investment (ROI) that customers expect from other online media.
Click for details
Automated Marketing
Automated Marketing: Managing for Personal Experience in SMB Markets
Sponsored by marketing automation and sales transformation firm Vendasta, "Automated Marketing: Managing for Personal Experience in SMB Markets" from BIA/Kelsey examines the role of marketing automation solutions for agencies and others serving SMBs.

Marketing automation has proved itself as a tool to streamline the increasingly complex media mix. It's been able to help marketing departments promote through various digital channels and automate repetitive tasks — a need that grows as those channels continue to fragment.
Click for details
Video
Video: The Conversion Media
Sponsored by video marketing firm bieMEDIA, "Video: The Conversion Media" from BIA/Kelsey examines the use of video as a critical tool for driving conversion at every stage of the customer lifecycle.

Once considered the exclusive domain of well-funded companies, video marketing is now easily within the reach of SMBs, many of whom are finding that online video offers remarkable return on investment and acts as a vital means of securing prospective and repeat customers.
Click for details
Optimizing Local Marketing
Optimizing Local Marketing: SMB Marketing Needs 'Do It With Me' Models
BIA/Kelsey report, sponsored by Vendasta, examining the do-it-with-me (DIWM) service model for marketing solutions geared to small and medium-sized businesses.

Large companies and well-funded startups have the resources to take advantage of today's advanced digital marketing techniques. These approaches sometimes require hiring marketing staff or using relatively expensive marketing services that rely on enterprise toolsets.
Click for details
Content Marketing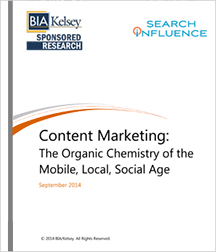 Content Marketing: The Organic Chemistry of the Mobile, Local, Social Age
BIA/Kelsey forecasts U.S. native advertising within social media to grow to $9.4 billion by 2018. Meanwhile, our Local Commerce Monitor survey shows SMB ad behavior trending towards content marketing-oriented channels like Facebook, email, video and blogs.

Content marketing – also referred to as native advertising – is content that's created and positioned to promote a given business in ways that are more organic than traditional paid advertising. This report examines where the opportunities lie in content marketing, along with its drivers, the dos and don'ts, and what can be gained from doing it right.
Click for details
Internet Radio Revolution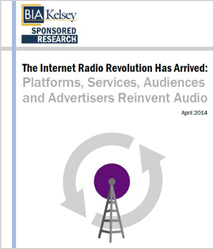 The Internet Radio Revolution Has Arrived: Platforms, Services, Audiences and Advertisers Reinvent Audio
The Internet radio revolution has been brewing for some time. Streaming audio has gone mainstream for audiences and advertisers. This revolution is foundational, meaning that new business models are forming around new audience behaviors supported by technology advances.

This new report highlights how these forces will redefine the Internet streaming audio market over the next generation and reviews the economics of the whole opportunity.
Click for details
SMB Marketing Opportunity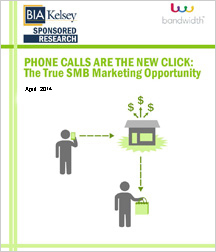 Phone Calls Are the New Click: The True SMB Marketing Opportunity
Increased smartphone use means localized mobile ads can connect consumers and SMBs. But first the technology must be simplified and scaled for the SMB segment.

This special report takes a look at platforms being developed to drive, track, and manage inbound phone leads and addresses the questions of how the market fares for SMBs.
Click for details
National-to-Local Marketing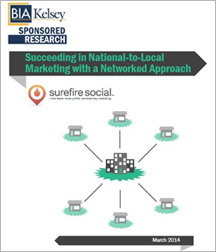 Succeeding in National-to-Local Marketing with a Networked Approach
National and regional businesses see local – advertising, marketing, promotions and services – as an opportunity to drive more relevant engagement with their customers. Market research is backing up this assertion. BIA/Kelsey's U.S. Local Media Forecast projects that locally-targeted spend by national businesses (brands, franchises, dealer/manufacturer networks and other multi-location enterprises) will grow to $52.9 billion by 2017.

This report details the challenges and opportunities for brands and other multi-location businesses seeking to deploy and optimize digital marketing strategies across local affiliate networks.
Click for details
Mobile Advertising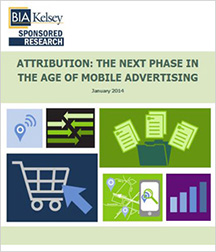 Attribution: The Next Phase in the Age of Mobile Advertising
Mobile tops the list of tech and media topics that have gained the marketplace's attention and investment over the past few years. Yet, advertiser adoption hasn't caught up with mobile usage. Mobile holds a 12 percent share of U.S. consumers' media time, but only a 3 percent share of ad revenue.


Click for details
Analyst Briefings
Speaking Engagements
BIA/Kelsey analysts speak at industry events throughout the year. See where we'll be next.
Local Media Watch
Subscribe to Local Media Watch Newsletter

See all blog posts
Webinar

SMB Adoption of Mobile, Social, E-Commerce, Loyalty Programs and Promotions

Findings from BIA/Kelsey's Local Commerce Monitor
View Video
|
PDF of Slides
|
All Webinars