State-of-the-Industry Reports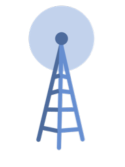 Built on our long-term research and analysis of the local media industry, BIA/Kelsey offers State-of-the-Industry reports for different sectors.
Each report offers a comprehensive review from business, technology, advertiser and consumer angles.
Reports are currently available for television and radio.
State-of-the-Industry – Television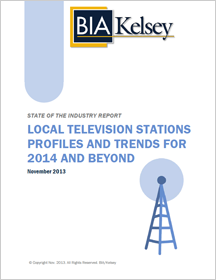 As local television stations continue to generate substantial cash flows, investor confidence rose, driving broadcast television's value up 185 percent in the first three quarters of 2013.
The report Local Television Stations Profiles and Trends for 2014 and Beyond details how the growth in local television is being driven by retransmission consent and increased digital business. It also answers the following questions:
Who is the industry's present and future competition?
What are television's current prospects for success?
Are retransmission and technology investments helping local stations compete with new threats in the marketplace?
What is the investment community's view of television broadcast groups' financial prospects?
Is advertising on stations still an important part of the local advertising mix reaching consumers every day and week?

The report delivers a comprehensive assessment of the television industry and is a useful resource for anyone focused on the trends and direction of local TV, including ownership groups and financial institutions, and companies building interactive digital solutions being embraced by the industry.


Click for report details
State-of-the-Industry – Radio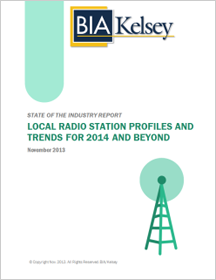 Although at a more moderate pace than it once did, the local radio market is growing by expanding its offerings to off-air platforms and providing a wider range of listener experiences and advertiser opportunities.
Offering a thorough, 360-degree assessment of the radio industry, Local Radio Stations Profiles and Trends for 2014 and Beyond answers the following questions about radio:
Is local radio adapting to competition?
How is radio positioning itself for success in the digital media environment?
What business categories are driving ad revenue?
What new types of offers are proving successful for local radio?
Do sales reps need specialized training?

This report is a valuable resource for executives, managers and interactive digital VPs of radio groups, financial institutions and companies building solutions being embraced by the industry.


Click for report details
Analyst Briefings
Speaking Engagements
BIA/Kelsey analysts speak at industry events throughout the year. See where we'll be next.
Local Media Watch
Subscribe to Local Media Watch Newsletter

See all blog posts
Webinar

SMB Adoption of Mobile, Social, E-Commerce, Loyalty Programs and Promotions

Findings from BIA/Kelsey's Local Commerce Monitor
View Video
|
PDF of Slides
|
All Webinars